Stone Columns
Ground Densification / Mitigation for Liquefaction and Lateral Spreading
JAFEC USA produces Stone Columns utilizing two methods developed in Japan and refined by JAFEC engineers. The standard method is the Sand Compaction Pile (SCP). Installation is done both on land and underwater by driving a casing pipe into the soft ground using a vibratory hammer. The driven casing is then repeatedly filled and compacted with stone, sand, recycled concrete or other suitable material. The casing is gradually withdrawn during the re-filling and compacting, creating a dense pile. The second method is the Ecological Gentle Geo-improvement (EGG) or static method. With this method the casing is gently advanced downward by a revolving cutting head with a rig crown providing the downward force. The spiral shaped head is uniquely designed to excavate and expand the annular space for column enlargement.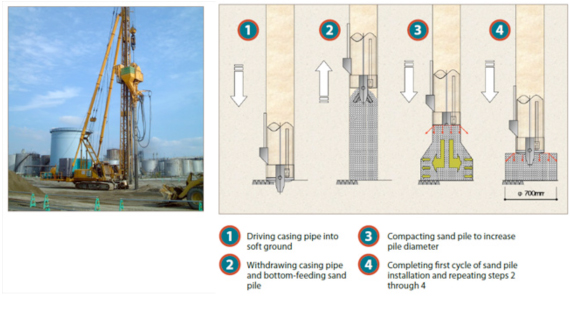 SCP & EGG Benefits:
Versatile and economic alternative for improvement of most soil types both on land and off-shore.
SCP columns can be driven by either dynamic-vibratory or static "gentle" methods.
Bottom-fed SCP columns are more uniform in composition than traditional stone columns.
SCP production is closely controlled thru use of JAFEC on-board quality control and data acquisition systems.
Unlike traditional stone columns, SCP can use sand, recycled concrete or other suitable materials.