Cast-in-Situ Piles
Outline
The cast-in-situ piles drilling method utilized by JAFEC was introduced through technical cooperation with Germany's Bauer Group.
The Leader Casing Rotation machine is a hydraulic, all-purpose, large-diameter drilling machine that can be used in clay and sandy soil and even in gravel and bedrock by changing the attachment or accessories to match the ground characteristics and other conditions. This system provides an array of capabilities that can respond widely to market needs and site conditions.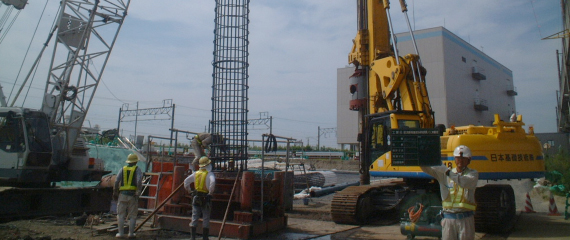 Features:
All-purpose equipment
The Leader Casing Rotation drilling assembly comes with a range of drilling tools. This drilling assembly can not only drill through clay and sandy soils but through gravel and bedrock by simply switching attachment tools.
This all-round drilling machine offers the options of dry and wet drilling and can accommodate the all-casing, core tube, bucket boring, auger boring, and percussion boring methods.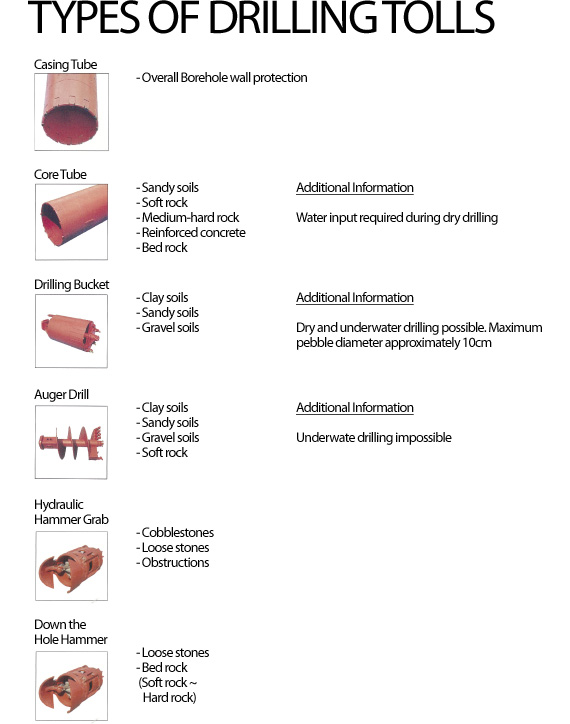 Maneuverability
The Leader Casing Rotation drilling machine is robust, composed in conjunction with high tensile steel, and utilizes a fully hydraulic drive system. It is compact with self-drive mobility. In addition to having very powerful drilling capabilities, it boasts other advantages like the ability to rotate a full 360°and the ability to utilize an auxiliary winch that allows work to proceed without an accompanying crane.
Wide variations
With a line-up of different models (numbers 7 to 28) and all types of drilling tools, we can respond flexibly with low-noise, low-vibration implementation to all site conditions and job scales. We also bring a wealth of experience gained before this equipment was introduced to handle individual customer requirements.
Application
Large diameter cast-in-situ pile methods
Large diameter cast-in-situ pile methods such as leader casing rotation excavation method (BG method), casing rotation excavation method (super top method), reverse method (BG reverse method, and the earth drill method (HND method) make low vibration / low noise construction possible in various work environments.