R&D
R&D – RESEARCH, MANAGEMENT & TRAINING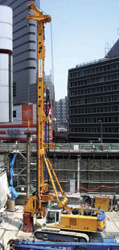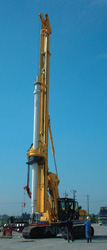 The world of technology is moving rapidly. The JAFEC Group continues to adapt, improve and develop innovative techniques for applying our technology to the specific needs of our clients at difficult sites. Our 50-plus year heritage of cutting-edge technical development continues to serve us well in today's challenging marketplace. Through technical collaboration within our own group and our network of overseas companies we continue to refine and develop unique and efficient methods of Ground Improvement.
Information Management
Since 1983 JAFEC has utilized in-house developed systems for control of order management, asset management, cost management, management of purchasing and/or outsourcing machineries and materials, management of payment and collection, etc. The information gathered by these systems has optimized office work by proactively sharing electronic reports and data through our internal network. Additionally, since 1995 we have utilized our network programs to share the computerization of technical calculations such as central operation of pour dam grout control system.
Center for Machinery and Materials
JAFEC maintains two Machinery and Materials Centers in Japan where highly trained technicians and engineers maintain, upgrade and improve our equipment as well as manage our spare parts inventory. Inventory control and management are conducted here in order to rapidly supply the needs of our diverse project sites.
Safety Management
Safety has always been foremost at JAFEC. We conduct regular safety patrols at the project sites and branch offices. At the Center we conduct safety training for new employees as well as experienced staff.

Quality Control
Quality has always been a priority at JAFEC. Quality control of the constructed product begins with design and control of the materials and carries through to the installation process. JAFEC engineering technicians receive QC training at the Center for Machinery and Materials.